Top Tree Service in Alliston from Great Northern ReGreenery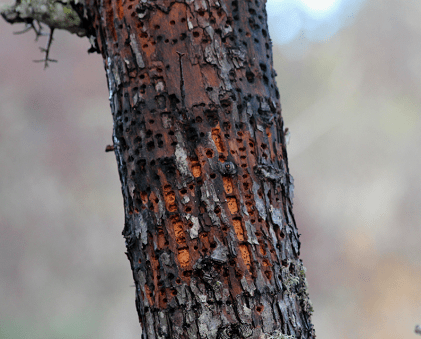 Tree damage is caused by pesky insects and diseases. They also harm other types of plants, too. Insect migrate and look for sources to feed on like leaves and fruits of trees. They also cause damage by boring holes on the trunks and branches of the trees. Once these insects have made a home in your trees, the trees will eventually starve, get weak and then die. Trees do get sick and damaged through other factors caused by humans and nature. With all these possible tree health threats, there is only one way to solve them and that is to find expert tree service in Alliston and other nearby locations.
Great Northern Regreenery is the company you need for the best and reliable tree service Alliston residents can avail of. We offer years of experience in caring and curing damaged trees. Our team of certified and expert arborists and applicators use only the most state-of-the-art equipment and high-end tools to not only treat and save your sick trees, but also keep the healthy ones from getting sick. Maintaining an urban garden can be difficult when your trees and plants don't get the much needed nutrients. Great Northern Regreenery understands this and has the experts who will care for all your garden's pest, insect and disease problems. This is our goal: to care for your trees' health as well as the health of your family.
We at Great Northern Regreenery also provide tree stump removal, tree pruning, fertilization and aeration services and cabling and bracing services. You can find only the best in tree service Alliston has to offer with their proven and unbeatable expertise in quality, security and safety.
Get in touch with Great Northern Regreenery
For more of your tree-related problems, visit our website www.greatnortherngreenery.com to set up an appointment. Our website will provide you with all the information that you need. Our team of experts will readily accept your call at (905) 775-7444 or (705) 458-4600 or our toll free number: 1-877-775-7444. You may also send an email at Regreenery@GreatNorthernRegreenery.com and we will answer right back with the answers to your inquiries. Call Great Northern Regreenery now!